23 Oct 2006:
"To Whom It May Concern,

Please be advised that our son LCPL Nicholas Manoukian was killed in action on October 20th in Rimadi as a result of an IED explosion. Please post it on your web site with a note of thanks to averyone that sent packages and kept him in their prayers.

Sincerely,

Mary Manoukian - Calhoun"
---
--------------------------------------------------------------

IMMEDIATE RELEASE No. 1069-06
October 23, 2006

--------------------------------------------------------------

DoD Identifies Marine Casualties

The Department of Defense announced today the death of four Marines who were supporting Operation Iraqi Freedom.
Lance Cpl. Clifford R. Collinsworth, 20, of Chelsea, Mich.
Lance Cpl. Nathan R. Elrod, 20, of Salisbury, N.C.
Lance Cpl. Nicholas J. Manoukian, 22, of Lathrup Village, Mich.
Cpl. Joshua C. Watkins, 25, of Jacksonville, Fla.
These Marines died Oct. 21 while conducting combat operations in Al Anbar province, Iraq.
Collinsworth, Elrod and Manoukian were assigned to 1st Battalion, 6th Marine Regiment, 2nd Marine Division, II Marine Expeditionary Force, Camp Lejeune, N.C.
Watkins was assigned to 2nd Tank Battalion, 2nd Marine Division, 2nd Marine Expeditionary Force, Camp Lejeune, N.C.
For further information about these Marines, please call the 2nd Marine Division public affairs office at (910) 451-9033.
---


Just weeks after marriage, Marine killed in Iraq
Web-posted Oct 24, 2006
By DIANA DILLABER MURRAY
Of The Oakland Press

LATHRUP VILLAGE - Marine Lance Cpl. Nicholas J. Manoukian 22, had been back in Iraq only one month before he was killed in Anbar province when the Humvee in which he was riding drove over an improvised exploding device.

Manoukian, son of Mary Manoukian Calhoun of Lathrup Village, married his junior high school sweetheart while he was home on leave.

The young couple had one month and one week together before he was deployed to Iraq in September, said his wife, Danielle Manoukian, 22.

A radio operator, Manoukian was one of four Marines based at Camp Lejeune, N.C., to die in the explosion Saturday and one of two from southeastern Michigan, the Pentagon said Monday. The Defense Department identifi ed the others as Lance Cpl. Clifford R. Collinsworth, 20, of Chelsea; Lance Cpl. Nathan R. Elrod, 20, of Salisbury, N.C.; and Cpl. Joshua C. Watkins, 25, of Jacksonville, Fla.

"He was my only child," Calhoun said, describing how her son loved to draw, loved playing drums, enjoyed ice hockey and snowboarding, loved to cook and was a giving person.

The 2003 Royal Oak Kimball High School graduate was to come home on leave in July. Shortly before that, he called his mother to let her know he and Danielle, whom he met when they were 14, had decided to get married while he was home.

"We had 10 days to plan a wedding, and her mother and I pulled it off in 10 days," his mother said.

The two got married at Shrine of the Little Flower Catholic Church in Royal Oak, and Manoukian was baptized and had his first Communion that day, as well, she said.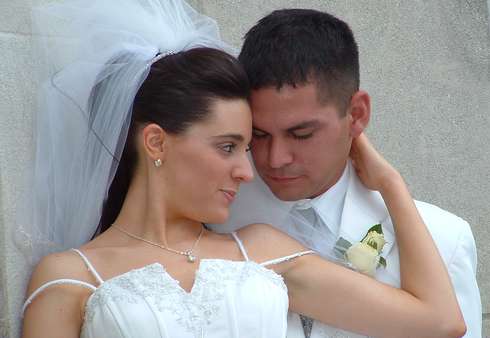 "If there were two people meant for each other, it was Nick and Danielle," his mother said. "They'd been together a long time. Then they drifted apart. But they knew they'd end up together.
"I got to dance with my son at his wedding," she said, gratefully, between sobs. "I was looking forward to having a granddaughter," Calhoun said. Manoukian had planned to adopt Danielle's 2-year-old son, Nico, and they planned to buy a house and have a child after he came home from Iraq.
Then the doorbell rang Saturday.
"I never even questioned or imagined it would just be a month, and that was it," said Danielle, who lives in Royal Oak.
"I'm happy that I got to live with him. He was a person who would give and give. He was the first to volunteer. I just feel so privileged that I got to love somebody so much and he loved me so much."
Growing up, "Nick was the love of his dad's and my life," Calhoun said. "He lost his dad (Isaac Manoukian) at 12 and after that several other family members. He was a strong kid. I used to tell him we were the survivors. I want people to know he was a vibrant young man. He loved his family and was so giving," said Calhoun, who is now married to Manoukian's stepfather, Gary Calhoun.
The family also celebrated Manoukian's 22nd birthday while he was home. He spent his 20th birthday in boot camp and his 21st birthday in Iraq. He and Danielle also celebrated all of the holidays he would miss while in Iraq, including Halloween. He gave her an engagement ring in an Easter basket she made for him when they were in high school.
Before Manoukian was recruited into the Marines, he took art classes at Oakland Community College and worked part time at the Evergreen Nursing Home, where he was the cook.
"He loved to cook," his mother said. "He was fabulous drummer. He used to play from the time he was little. He got a beautiful set of drums when he was 12.
"My dream for Nick was college," his mother said. "He had such a kind, generous heart, and he gave the tightest, best hugs in world. I can't imagine living the rest of my life without him," Calhoun said.
Danielle said she and her new husband had met at 14 and started dating at 15.
"We had always planned to marry. We would talk on the phone eight hours and fall asleep while we were talking. Then we would talk while we were getting ready for school in the morning."
Describing their love as like that portrayed in the movie "Notebook," she said, "He loved me like that. I loved him like that."
Manoukian called her when he could from Iraq and said it "was just terrible there; it wasn't getting any better.
"I always started to cry at the end of calls. I said, You are coming home.' And he would say he was. I felt like he knew he was coming home, and it made me feel like he was," she said.
Services for Manoukian are pending the return of his body to the United States.
---
06 Sep 2006
Any food items would be of help. I am representing my platoon in WPNS Co. We are a infantry platoon and do not have any females with us. Also any gear that anyone could send would be great. Magazines to read would be great. Alot of us are into automobiles, tattoos, Maxim, Stuff, anything of that nature. Absolutley anything would be greatly appreciated, anything to help our time go by faster. socks would also be a great help. My unit is from North Carolina and I was born and raised in Detroit, Michigan. This will be mine and most of my buddies second deployment. Most of us were deployed to Iraq last year in Fallujah. Letters and pictures from back home would be great too. We will also send pictures if you would like. We will also be spending most holidays over in Iraq. We will not be able to spend Christmas, New Years, Valentines Day, Thanksgiving, Halloween, and some others with our families. Thank you so much for your support and help!!! ~Semper Fidelis